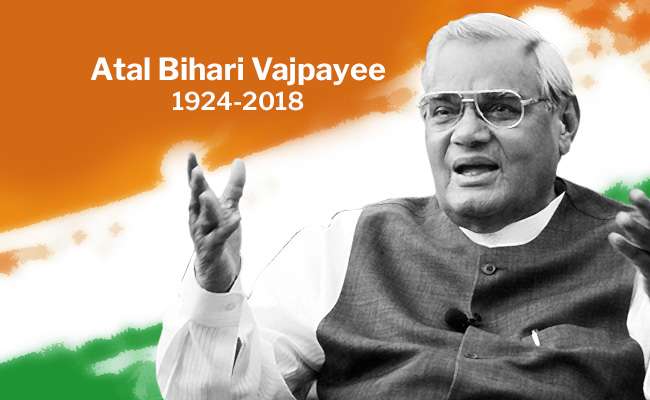 Just a day after our 71st Independence Day, Hindustan lost one of its greatest son. Bharat Ratna and former PM Shri Atal Bihari Vajpayee took his last breath on 16th August, 2018 and left the whole India mourning. My mere words can never be enough to describe this spirited and nationalist leader and what he means to the ideology which I connect with. I am by no means a political intellectual or a good writer. I have not read any ideological books or done some research upon Atal Ji's legacy, but as I write this, only I can know how deeply saddened I am with Atal Ji's heavenly abode.
My first memory of Atal Ji was seeing how my dad talked about him just before the 2004 elections. And it was my dad from whom I learnt the most about Atal ji and came to admire him the way I do today. I was but a child, but I remember that Atal Bihari Vajpayee was the only politician whose name I knew. And I have to say, I liked him. Maybe it was because that 6 year old child saw some quality on that face which made him smile.
By the time I became self aware, Atal Ji had already bowed out from politics with grace. Manmohan Singh was our nation's Prime Minister, and it looked like Atal ji took all the grace out of politics with him. Times had changed, and politics had lost all morals. It was all about votes.
But the people who were to take his legacy forward still put his ideologies at the base of their belief. He was a politician who never shied away from praising his rivals on their good governance for the nation, and was known to be critical of his own cadre at times. From calling Indira Gandhi 'Durga' after the 1971 war to being the representative of India to the UN even after being the leader of the Opposition, Atal Ji has been the epitome of how an ideal nationalist should be.
मैं जी भर जी लिया, मैं मन से मरु,
लौट कर आऊंगा, कूच से क्यों डरूँ?
I was instantly teary eyed when I read these 2 lines of Atal Ji's poem on death. I came in touch with the poetic side of Atal ji just when every news channel was running certain clips of him. That man who wrote such lines about the inevitable fate of death, how deep his soul must've been? His death must be a reason to celebrate, not mourn. I'm sure he must've wanted that.
From his thundering speech in the Parliament before resigning, to his speech in Hindi in front of the whole world in the UN, Atal Ji's speeches have truly become immortal. Talking about making India a nuclear power and working for the development of the nation despite US sanctions seems out of point at this time. The nation can never thank him enough for his selfless service.
'Humbly aggressive, and aggressively humble', Atal Ji's problems with his political rivals and the world was always visible, but his anger never broke his humbleness. He respected all ideologies, embraced everyone and touched millions of lives.
I hope you find God up in there sir. Hindustan mourns you.
अटल जी, आप अमर है।
जय हिन्द।
भारत माता की जय!