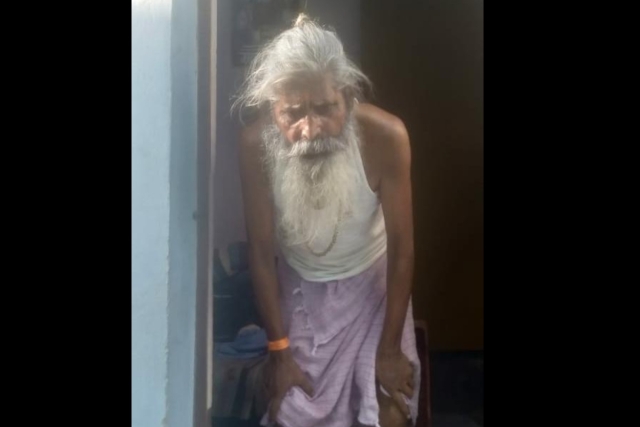 In another shocking incident, a Hindu sadhu was again targeted and subsequently killed in Meerut, Uttar Pradesh. Kanti Prasad, a caretaker of a Lord Shiv temple was beaten up by Anas Qureshi after he confronted him on some hurtful comments wherein he mocked his saffron attire and tilak on his forehead. Later, Kanti Prasad died during treatment in hospital.
The news was first reported by Dainik Jagran.
The case comes at a time when yet again the propaganda of 'oppression of minorities and their fearful living conditions' is peddled and the extremism and hate being shown by minorities towards Hindus is being ignored. Meerut police took to Twitter to inform that an indictment has been registered in the above case, in which the accused, Anas Qureshi has been arrested and sent to jail.
The deceased, Kanti Prasad, was a resident of Mohalla Handiya in Amdullahpur area of Meerut. His age is being reported to be 60 years of age according to various media reports.
Kanti Prasad, who the committee vice-president and also the caretaker of a Shiv Temple located in Abdulapur market of Bhagwanpur village in Meerut, Uttar Pradesh had gone on to pay the electricity bill in the district of Ganganagar on July 13th. Kanti, who mostly dressed in a saffron attire was returning to his home when Anas Qureshi aka Janaleva crossed his path near Global City. When he saw that Kanti Prasad had a saffron robe around his neck, he started making vile comments against his whole attire and mocked him.

After this, Qureshi started beating him right away in the middle of the road, from where Qureshi escaped. After escaping, Kanti Prasad went to Qureshi's house to tell his family about his wrongdoings, when suddenly Anas Qureshi came from behind and grabbed him and started beating him up.
As this ordeal was happening, Kanti Prasad's family came to know of this and went to Qureshi's house, from where they rescued Kanti Prasad and took him to the police station so as to lodge a complaint against Anas Qureshi. Kanti Prasad's health started getting worsening as soon as they reached the police station, from where the police called the ambulance which took him to the hospital.
In the hospital, Kanti Prasad succumbed to his injuries. Qureshi was arrested afterwards based on the complaint. After the Palghar incident, this is another incident where attention needs to be given to the lives of Hindu priests and sadhus.
Support The Power of Truth
In this day and age when truth comes at a very high cost and in the name of news, all you get is propaganda from everywhere, The Positive Indian tries to bring to you the true news from wherever we can. With our meager resources, it becomes increasingly tough for us to sustain ourselves. Support us in any way you can. Even a single rupee counts.