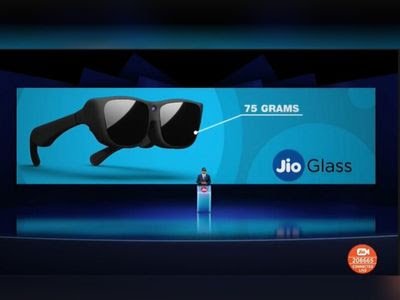 Isha and Akash Ambani, the directors of Reliance Industries during the company's virtual AGM launched JioGlass today. It is a 'mixed reality' product weighs only about 75 grams. The announcement about this next level gizmo was made during the company's first ever virtual AGM.
Overall, the device is supposed to work as an enhancement towards the virtual space and will increase the interactive capabilities by introducing 3D avatars, holographic content and video conferencing features.
For people who wish to see the device's content on their phones, Jio will also send a cable which you can connect to your phone and use JioGlass' features on your phone. For now, the device supports 25 apps in all.
With JioGlass, one will get personalized audio services and can also make their own 3D avatars, which are meant to make interactions among people better. Overall, the 3D avatars are trying to bring in a change in the way virtual interactions are taking place. The company is also bringing the feature in discussions using 3D avatars.
By leveraging holographic content, the JioGlass can bring in revolutionizing changes in the field of education. It can completely change the way subjects were being taught till now.
Support The Power of Truth
In this day and age when truth comes at a very high cost and in the name of news, all you get is propaganda from everywhere, The Positive Indian tries to bring to you the true news from wherever we can. With our meager resources, it becomes increasingly tough for us to sustain ourselves. Support us in any way you can. Even a single rupee counts.