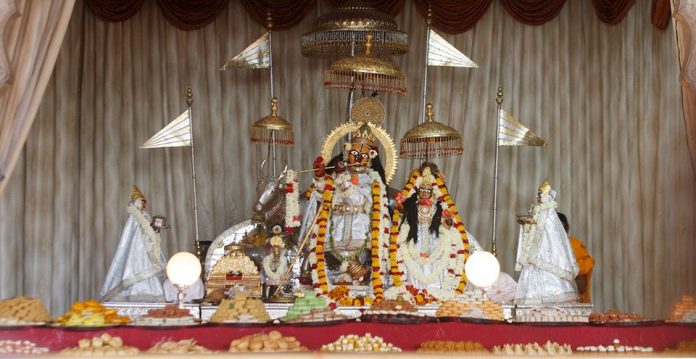 "राधे कृष्णा! हरे कृष्णा! कृष्णा कृष्णा, हरे हरे बोलो!
हरे राम! हरे राम! राम राम, हरे हरे बोलो!….."
For most of my readers this is just holy chant, but for me it is something which has made me ecstatic in my sad times, something which made me aware of my deepest emotions when all I experienced was plain hollowness of this cunning world, and most importantly it made me realize that there is an unseen power which takes care of me in my hard times. Which walks beside me as a friend and helps me face my toughest challenges. Never has a normal holy chant seemed so powerful and full of meaning to me. But now when I think about it, maybe that is how the power of pure, selfless devotion feels like. Don't get me wrong. That wasn't meant for me, but for those thousands of devout, selfless Govindev Ji bhakts who gather every morning at 4 and sing their hearts out for their King, the true Lord of Jaipur, Lord Govindev Ji.
The idol of Lord Govindev Ji has a wonderful story attached to it. It was made by Bajranabh, the great grandson of Lord Krishna, who wanted to see how his ancestor looked. But at that time, her grandmother was the only one who ever saw Lord Krishna. So he asked her about Lord Krishna's appearance, and upon hearing her description he made an idol of Lord Krishna. But her grandmother found only the feet of the idol resembles that of Lord Krishna. Then Bajranabh made a second idol, whose hands and feet resembled the ones of Lord Krishna according to her grandmother. So Bajranabh made another idol. Upon seeing the third idol, Bajranabh's grandmother drew her face behind her saree's veil, and told him that the face of this one looks exactly like that of Lord Krishna.
The first idol came to be known as Lord Madan Mohan ji, the second one as Lord Gopinath Ji, and the third one as Lord Govindev Ji. The idol, which was later discovered again by Roop Goswami, a follower of Chaitanya Mahaprabhu. Later on, Akbar and the king of Jaipur, Sawai Mansingh built a magnificent temple for Govind Dev Ji in 1590 in Vrindavan, which cost a whooping ₹1 crore at that time. But this was not all. During the religious fanaticism of the Mughal King Aurangzeb, who was keen on destroying all the temples across India and establish an Islamic state, this idol was brought to Amer by the then king, Sawai Man Singh 2. When the king was building the city of Jaipur, he saw Lord Govind in his dream, where he came to know that his whole palace belongs to the true Lord of Jaipur, Lord Govindev Ji, after which he shifted his residence to another palace of his. Since then Govind has never left us.
The temple is built in acres, and has a very homely feeling to it. The holiness associated to it can be felt even while walking down the paths there. The temple has a huge park, where there are a lot of rides for the children, and a garden which is a beautiful picnic spot. Monkeys can be found jumping and running around, creating a ruckus at times. There is also a very shady tree where a lot of bats can be seen hanging upside down. It was a very big attraction for us children to visit the temple in our childhood.
And oh, how can I forget those famous ladoos and 'mathris', and those ducks who quacked at every stranger who looked at them. Also, the shops in and around the temple are a market in itself.
The temple has also kept its pace with development, and just besides the palace of our Lord, a brand new hall has been constructed for people to hold religious functions there. The unique thing about it is that it is the biggest hall in the world which has no pillars except on its sides, and it has been awarded a Guinness Book World record because of that.
It is not a temple for me, it is a part of my childhood. I can very well remember those days when I used to walk there with my nanaji and sing those bhajans with all the devotees in there. Times have changed, but my feelings for the Lord hasn't.
हाथी घोड़ा पालकी!
जय कन्हैया लाल की!