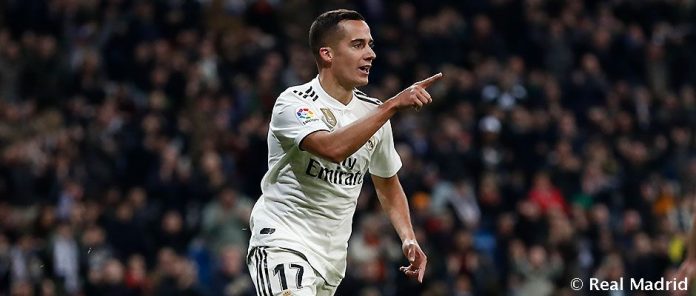 San Siro. Milan. Champions League Final. Madrid derby. Scores tied at 1–1 after ET. Shootout. Real Madrid to go first. Teams huddled around their manager. Who's taking the penalties? Out of the huddle walks a 24 year old, with the ball. Ahead of Ramos, Bale, Marcelo. Ahead of even Cristiano, who will take the spotlight a few minutes later. It's just the 7th UCL appearance of his short career. The biggest match in club football. The occasion doesn't seem to affect him. Spinning the ball on his finger as he walks towards the penalty spot. Places the ball. Takes his position. Breathes. Whistle. Runs up. Shoots. Balls hits in the right corner. Jan Oblak, Atlético's goalkeeper, left grounded on his spot. The lad lets out a roar. Grabs his shirt and thumps it. Thumps the badge, to be precise.
Lucas Vazquez walked into the Real Madrid academy at the age of 16. Rising up the youth ranks, he was subsequently loaned out to Espanyol at 23, yet to make his debut for Real Madrid. While Vazquez spent a solitary year on loan in Catalonia, the front 3 of Bale, Benzema and Cristiano with James Rodriguez behind them, ran riot in Spain. It was clear that Vazquez, whose primary position was on the right wing, had no future at Real Madrid. Not as a starter, at least.
Real Madrid scored 118 goals in La Liga that season. Second highest ever, just behind their own record set in 2011–12. They failed to win La Liga though. Or even the Champions League or Copa Del Rey. The starting eleven was too strong. Squad depth, though? Pretty bad. Carlo Ancelotti was sacked at the end of the season. Benitez walked into the hot seat only to be sacked a few months later. In between, he lost to FC Barcelona 4–0 at home and shambolically got eliminated from Copa Del Rey against Cadiz due to fielding an ineligible player.
Vazquez wasn't lighting the league on fire either. He started 30 games for Espanyol and scored a meager 3 goals. Nonetheless, Espanyol were impressed with him. They wanted to buy him but Madrid triggered the buyback clause just a day after his transfer to Espanyol was made permanent. As fate would have it, he finally made his debut for Real Madrid in a 6–0 win against Espanyol. It was a rough start to the season for Real Madrid, after which Benitez was sacked, and Zinedine Zidane subsequently took over. From that moment onwards, everything changed for Real Madrid.
And for Lucas Vazquez.
"Why put another layer of gold paint on the Bentley when you are losing the entire engine?" Zidane was famously quoted saying after the Makelele transfer to Chelsea. Ever since his playing days, the Frenchman had a special appreciation for players with a high work rate. He uses the word "intensity" to describe it. That was probably the reason in him ultimately benching James Rodriguez, Real Madrid's latest Galactico in favour of the loan returnee from FC Porto, a certain Brazilian named Casemiro. But Vazquez was another, who benefited massively because of the managerial change. He played 18 games in the rest of the season, including 43 minutes in the UCL final against Atletico.
But it was in the 2016–17 that Vazquez would go on to play an even bigger role. Players in the mould of Vazquez, the hardworking ones, putting their bodies on the line, putting in tackles until the final whistle can most of the times be perceived as mediocre. The truth however, cannot be any further away from that. Vazquez made 53 appearances for Real Madrid in 2016–17 season, most in the team. That, in a season when they won the La Liga and UCL. You simply don't rack up that many appearances in a season, if you are mediocre. Heck, even some of the brilliant ones don't manage to do that. Sure, more than half of these (32 out of 53) were from the bench, but what this stat shows is the reliability of Vazquez. He was fit for most of the season. Helped in closing out games when Real Madrid had a slender lead and needed bodies at the back and helped give the forwards a breather. These kind of intangibles cannot be shown using stats. What can be shown using stats are simple numbers like assists and goals. Surely, Vazquez lacks in that department but he isn't bad as he's portrayed to be. Of the players with at least 7 assists in the league in the 2016–17 season, Vazquez had the 11th best Assists/Minute ratio among all players in the top 5 leagues. Sure, most of those assists came against teams in the bottom half of the table but last I remember, you get 3 points for beating Sevilla, and 3 points for beating Levante or Leganes.
Vazquez is in the mould of a traditional winger. The likes of these, Robben and Callejon haven't fared well for Real Madrid. Zidane primarily used a
4–3–3 which would turn into 4–4–2 without the ball. As such, the winger's task becomes assisting the fullback in defense. In attack, his primary task is playing in crosses for the striker. He has been decent, if not good at it. He provided 1.7 Accurate crosses/90 in La Liga 2016/17 with 31% accuracy. For reference, Kevin De Bruyne in this exhilarating 2019/20 season managed 2.1 Acc. Crosses/90 in Premier League with 27% accuracy. Not bad then, eh? Since we are on this topic, Vazquez had 51% cross accuracy in UCL 2017/18 (Played 10. Started 5).
Another reason why he was used so frequently was his ball retention ability. He has rarely dropped below 80 in SmarterScout's ball retention metric (range 0–100). He also draws fouls frequently. Its a valuable quality to have in a player and Vazquez is surprisingly good at it.
Also rarely appreciated trait is his ability to create shots, and thus goals for himself and his teammates.
Santiago Bernabeu. UCL quarterfinals. Juventus has just scored on the hour mark to wipe out the 3 goal advantage from the first leg. 3–3 on aggregate. Whoever scores next, advances. No more goals in the next 30 minutes. 3 minutes of stoppage time. Into the third minute now. All set to run into ET. Toni Kroos with the ball. Crosses into the box. Cristiano, leaping in the air. Wins the header., angle's too tight though. The ball falls in the 6 yard box. A white jersey appears. Time's running out. There isn't much time to think. The young lad shields the ball from Benatia. Shoved. On the floor. Contact, just enough of it. Whistle. Penalty. Ronaldo scores. Madrid into the semifinals.
There's a word used to describe the players dedication to Real Madrid. They call it Madridismo. Vazquez embodies the spirit of Madridismo. He has played with a fever. He scored and assisted in that game, even. He could go game after game sitting on the bench, showing the same intensity in training, always ready to be called upon. He knows he doesn't have the talent like the others, but he more than makes up with his efforts. I have always had a fascination for these kind of players. Vazquez, Milner, Fernandinho… The opposition can never outwork you with such players in your side. It would be last minute of some preseason friendly and they will still be going on lung bursting runs, putting on tackles to help their team get that infinitesimal edge.
Bernardo Silva had a hell of a season for Manchester City in 2018–19. Kevin De Bruyne was injured for most part of the season and Bernardo was arguably their best player of the season. He primarily played as a midfielder but he put in significant minutes at RW. He was good too. But when you look closely, Vazquez's 2016–17 season matched Bernardo's at RW for City, in more metrics than one. This isn't to say Vazquez is a better player than Bernardo. But he isn't as terrible as he's made out to be.
Vazquez hasn't been at his best the past two seasons. The team had a disappointing season after winning three consecutive Champions League's and he suffered an injury in 2019–20. He would probably be offloaded this summer, or might leave next season when his contract is up. Has Vazquez done enough to be called a Madrid legend? Honestly, no. Has he done enough to cement his place in Real Madrid history? Of course, yes.
Allianz Arena, Munich. UCL Semis, 1st leg. Match evenly poised at 1–1. Bayern Munich dominating in the second half. Rafinha misplaces a pass in the Madrid half. Asensio latches onto it. Passes forward. Towards the No. 17 as he runs into the box. The lad in No. 17 receives the ball, a few yards into the Bayern half. A determined Kimmich in front of him. He runs forward. Stops. Passes to Asensio beating Kimmich. Asensio with the ball, 12 yards away from the net. One on one against Sven Ulreich. Shoots. Asensiooo. Composed finish. The ball lands in the right corner of the goalpost. Real Madrid win 2–1. The second leg would end 2–2 and Madrid would qualify for their third consecutive UCL final.
Vazquez isn't a Ferrari. The Real Madrid squad is full of them. Instead, he's the tow truck, to pull back to the garage when a Ferrari gets an unexpected flat.
Support The Power of Truth
In this day and age when truth comes at a very high cost and in the name of news, all you get is propaganda from everywhere, The Positive Indian tries to bring to you the true news from wherever we can. With our meager resources, it becomes increasingly tough for us to sustain ourselves. Please support us in any way you can. Even a single rupee counts.