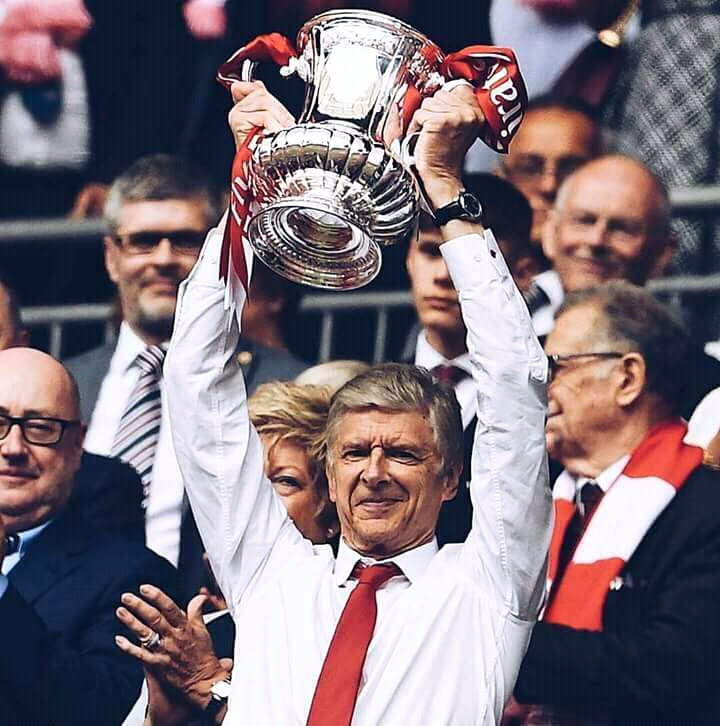 "Arsene who?" read the newspapers the day Arsenal signed Arsene Wenger. Only few could think that this man would someday mean so much to this club and would define Arsenal in such a drastic way as he does right now. When I started watching football, Arsenal wasn't the club it used to be. There was no Thierry Henry, no Dennis Bergkamp, no trophies for nine years, and I fell in love with that Arsenal. An Arsenal that had Theo Walcott and Olivier Giroud to call stars, whose fans now had to celebrate finishing fourth like they won the title. I fell in love with this Arsenal, who wasn't the Arsenal that it was once, just because of the football that Wenger made them play mesmerized me. Such was the impact of him on me.
Today, when I know about Arsenal's achievements under Arsene, I can't imagine an Arsenal without Arsene Wenger. He has made this club truly what it is. The great games he has had at some of the legendary stadiums of San Siro, Santiago Bernabeu and the Allianz Arena against the best of teams just makes me respect him more. He is truly the last of his breed that is left.
Arsene Wenger's Arsenal career started with a very little hype as nobody knew him. Nobody knew what he had to offer to the English football. In his first season at Arsenal, he guided Arsenal to a third placed finish, and their second season, Le Professeur won the FA Cup and the Premier League double with Arsenal, which was a big surprise to everyone. An unknown, lean and lanky guy who in no way looked related to football had somehow managed to win the prestigious double in his second season in English football.  
Wenger's main revolution in English football was the way that he impacted the diet of all his players at Arsenal. Wenger came to Arsenal from Japan, where there was almost no obesity, as the diet there consisted of raw vegetables, rice and fish. He literally frowned upon discovering that an average English footballer ate red meat, eggs and chips. He told everyone about the benefits of a good diet, scientifically explained it to them and then eased up things such as pasta, steamed fish and raw vegetables among their diet, though he didn't mind if it wasn't followed the way it should have been.
The place where you would see the real Arsene Wenger was the training ground. Every exercise, every training session was scientifically designed. If the session was of 45 minutes, not a minute extra will you see the training session go. That was something new as compared  to what the players at Arsenal were used to do. This man was slowly revolutionizing the football in England.
When we talk about Arsene, the name that always comes to mind is Thierry Henry. At the time of signing, nobody though that this flop winger from Juventus could succeed. That remained the case for about 8 games, after which Thierry raked in 25 goals in his first season, before scoring many many more and becoming our all time top scorer. Wenger is known for his knack of identifying talented youngsters and players who could succeed at the topmost level. Nikolas Anelka, Emmanuel Petit, Marc Overmars, Patrick Vieira, Ashley Cole, Francesc Fabregas, Robin van Persie the list could go on.
Some of these players had their best moments under the Gunners boss. Thierry Henry for one is now cast in bronze outside the Emirates stadium, partly because of the 2003-04 campaign under Wenger, which made all of them maybe the best team in the history of England, yes it is a big claim but it has a lot of weight in it. The Invincible Season, when we won the golden Premier League trophy, the only golden Premier league trophy and the FA Cup. The Invincibles Arsenal could be called a mix of both today's Barcelona and Atletico Madrid, with blistering attacking prowess and a tight defence which conceded just 26 goals the whole season. That could be called the golden days at Arsenal, where we went 49 games unbeaten, still a record which I think might stand for at least a century.
Arsenal beat some very good teams in those times, Real Madrid at Bernabeu and the 5-1 drubbing of Inter at San Siro, courtesy of Thierry Henry still remain in the minds of Arsenal fans. But what we remember with a big smile is winning the title at Old Trafford……ah that Silvian Wiltord goal…..and how can I forget the title that we won at White Hart Lane, at our arch enemies Tottenham Hotspurs' home ground. Golden days indeed.
No one could forget our 2006 Champions League final loss though, at the hands of Frank Rijkaard's FC Barcelona. That was the closest we have ever come to European silverware.
Arsenal owe their new stadium, The Emirates stadium to Arsene Wenger. The stadium is clearly a big legacy which he will leave behind. Constructing such a big stadium, that also in the city of London where the costs were so high is a big achievement. We did not have any extra funding that clubs like Chelsea and Manchester City have, Wenger had to work under a lot of budget constraints. Nobody could forget the tough time that we endured just after moving to the Emirates from Highbury. A nine year trophy drought, in which we lost our biggest stars, had an 8-2 defeat at the hands of Manchester United and celebrating coming fourth as if we had won the title. Still I am not afraid to say that even that Arsenal had its golden moments, and mind you, some of them still are unmatched by other big English clubs. This includes beating AC Milan at San Siro, Bayern Munich at the Allianz Arena, and the best one-beating the legendary Pep Guardiola's Barcelona. No other club could boast about these achievements. Also, qualifying for the UCL for 16 straight seasons is again a big thing. Only Real Madrid has qualified for more UCL tournaments than Arsenal.  Arsene can be called one of the most consistent managers in modern football, and also one of the most respected. Coaches such as Johan Cruyff and his arch rival at Manchester United, Sir Alex Ferguson hold him in high regard till date.
When the financial constraints were taken off, Arsenal again were in the phrase of rebuilding for their club. Before, their target wasn't winning trophies, it was paying off the financial debt of the stadium and make the club function in a smooth manner. Now, the club's target again was to win trophies. Arsenal bought Mesut Özil, their record signing from Real Madrid, and that year after nine years without a trophy they won the prestigious FA Cup. Alexis Sanchez was bought from Barcelona the next season, another big star who helped in winning another FA Cup. The season next Arsenal finished second behind the miraculous Leicester City and this season we won an FA Cup, which makes it 3 FA Cups in 4 seasons (also making Wenger the most successful manager in FA Cup history), which apparently isn't enough to satisfy the Wenger Out Brigade. Such a shame.
Under Wenger, Arsenal became a brand from just a football club. Our revenues soared. Our cash reserves are apparently £200 million, more than any other club of the world. We made a world class stadium, qualified for 16 straight Champions Leagues and also became the seventh richest football club in the world. Under Wenger, we became a side which just didn't play football to win but a side which made it an 'art'. Wenger's tactics has always been inflexible. People criticize his ideology as old. He isn't as dynamic as one should be. Yet nobody could doubt his footballing mind or his loyalty to Arsenal, his eye for talent and his approach to this beautiful game. In his time at Arsenal Wenger gave everything. He rejected clubs like Real Madrid, Barcelona and many more, his marriage fell apart and Arsenal took all of his time. Yet we blatantly criticize him and disrespect him.
The bottom line is that Arsene deserves respect, and we the Arsenal fans don't give him that. His whole life can be summed up with one name, Arsenal.
"There is only one Arsene Wenger"
If you have any article worth publishing e-mail us at-