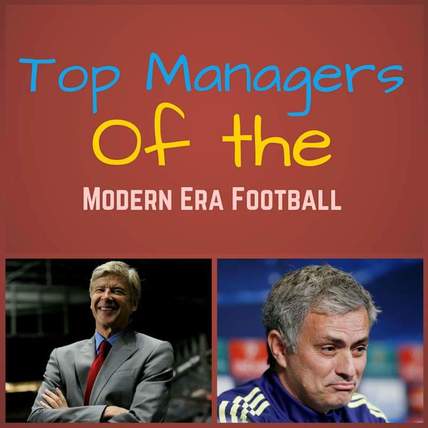 Jupp Heynckes(Germany)
 Jupp Heynckes though has retired was a veteran and one of the best at his jobs. He is one of the three managers who has won the Champions League with two different clubs namely Real Madrid and Bayern Munich. Just like his playing career his managerial career also started at Borussia Mönchengladbach. He managed 10 different clubs across his managerial career that spanned for 34 years. But what he will be mostly remembered for is his last season as a manager at Bayern Munich. Bayern lost only one match that season, raking a Bundesliga record of 91 points that season and alongside sealing the League title in record time. But what made that season special was the 7-0 thrashing of FC Barcelona(on aggregate) in the semi-final of the Champions League. Bayern won every major trophy that year. That was the last season of Heynckes' career. Later there were many rumours and speculations that he is making a re-entry as a manager but he brushed off those rumours and said – "I have got nothing to prove".
Carlo Ancelotti(Italy)
A former AC Milan player, Don Carlo started his managerial career with Serie B side Reggiana, helping them in promotion to Serie A that season. He left just after that, moving to his old club Parma.  His successful 2 season managerial stint earned him a job at Italian heavyweights Juventus. But he was sacked after he went trophy less that season. After that in 2001, he signed for his old club AC Milan, inheriting a not so strong Milan side . The season after that, AC Milan won the Champions League, beating Juve 3-2 alongwith Coppa Italia. Next season bought Serie A success to Milan. He famously lost the 2005 UCL final to Liverpool but revenged his loss by winning the 2007 UCL final against them. In 2009 he signed for Chelsea. Chelsea won the Premier League and FA Cup that season, securing Chelsea's first ever domestic double. The following season however was not very good for Chelsea. Chelsea lost some big games and eventually finished runners up to Manchester United and ended up winning nothing . He was fired just after . He then joined PSG after that season's winter break.  In his full season, PSG won the Ligue 1 title and were knocked out by Barcelona in UCL quarters . After that season Ancelotti joined Real Madrid. In his first season at Real,  he won the Coppa del Rey and the UEFA Champions League becoming the only manager to win 3 UCL trophies with 2 different clubs. He was fired after his second season at the club. He is now contracted to Bayern Munich.
Jose Mourinho(Portugal)
He is one hell of a man. A self proclaimed 'Special One', Mourinho's managerial career is filled with glitters in which he managed six clubs. He is also one of those managers who has won the UCL with two different clubs, one with Inter Milan and the other with FC Porto. He already had made a big name when he won the UCL with Inter Milan in 2010. His moment came when Jose Mourinho's Porto faced France's AS Monaco. FC Porto beat AS Monaco 3-0. After that he was appointed as manager of Chelsea FC. Chelsea won the title, losing only 1 game the whole season. He then left Chelsea after 3 seasons during which he became Chelsea's most successful manager till date. The first ever Italian treble(Serie A, Coppa Italia and The Champions League) was won by Inter Milan under Jose Mourinho in 2009-10. The following season, he signed for Real Madrid. He spent 3 seasons there, winning every trophy in Spanish football. After that, he again signed for Chelsea where in his second season he lifted the league title and the capital one cup. The only dent on his pristine managerial career came in 2015-16 season. Defending champions Chelsea had the worst possible start, they were just above the relegation zone when he was fired. Still no one could question his managerial talent. Manchester United then came calling for him, which he didn't refuse.
Pep Guardiola(Spain)
The Manchester City manager is one of the best coaches in the world right now. The former Barcelona player is also the most successful manager in their history. Guardiola started his managerial career under a lot of pressure after taking over from Frank Rijkaard. Combined with the number of changes he made to the team, such as selling Ronaldinho, did not go well among the fans. But everything changed.  They won the first ever Spanish treble that season. Also Lionel Messi, who gives Pep all the credit for making his career became a regular. Pep used Messi as a false number 9, who then started making his mark for the Catalan Giants. The following season, Barcelona went on to win the Spanish Supercup, the European Supercup and the FIFA Club world Cup, completing the calendar year sex-tuple.In his 4 seasons as a manager at Barcelona Pep won 14 trophies, a club record. In 2012-13 he took an year off from all kinds of footballing activities, residing in the USA that time. In 2013-14 he joined Bayern Munich. In his first season he won the Bundesliga with record points, bettering Heynckes' record. He also won the DFB-Pokal that year alongwith UEFA Supercup and FIFA Club World Cup. The season after that, he again won the league. He won the league title next season before moving to Man City.
Arsene Wenger(France)
Lovingly known as Le Professeur, Arsene keeps up the reputation for his nickname. Wenger started his managerial career in Ligue 2 side Nancy in 1984, managing the team for 3 seasons. After that, he joined Ligue 1 side AS Monaco, remaining there for 6 seasons, winning the Ligue 1 title and the Coupe D' France once. After 6 seasons he left AS Monaco . Then a managerial move to Japan saw him manage Japanese side Nagoya Grampus Eight, where he won the League title and cup in his first and only season in charge. Then his whole life changed when Arsenal came  In his first season incharge Arsenal finished third in the league. The season after that Arsenal won an FA Cup and League double. Wenger again won the League and FA Cup double in 2001-02 season. The next season Arsenal won the league and FA Cup double for a third time under Wenger, but that season is remembered for Arsenal's unbeaten record in the league, where they went unbeaten the whole season. This streak continued for 49 matches, when they were finally beaten by Manchester United. That season Arsenal retained the FA Cup. Then came the 9 year trophy drought. Arsenal was under major debt for 9 seasons as they had built a new stadium(Emirates Stadium) because of which they had to sell their big players. In the 2013-14 season Arsenal made a big signing. They signed star German playmaker Mesut Ozil from Real Madrid and won the FA Cup and a major trophy after 9 years. The season after that Alexis Sanchez was signed from Barcelona and Arsenal retained the FA Cup. After a period of instability Arsenal look back on track. Under Wenger Arsenal qualified for 16 straight UCL last 16 and never have the club shown any kind of financial loss under him. Wenger is also known for his nutrition and diet techniques that in many ways revolutionized the English football.
Sir Alex Ferguson(Scotland)
What should we say about this man? He is simply the greatest football manager there is, was or will be. Interestingly Sir Alex Ferguson was already a renowned manager before he joined Manchester United. Fergie started his managerial career in Scotland. The first club he managed was East Sterlingshire. He remained there for short time, before moving to St. Mirren. In his four seasons incharge he transformed the club from a lower division team to first division champions.  Even after his success at the club, he was fired for breaching of various contract clauses. Scottish club Aberdeen was to be his next destination. At Aberdeen he achieved great success, probably the most in his career (before moving to his final destination). Though the first 2 seasons did not go well in 1979-80, his third season incharge Aberdeen won the Scottish League and also won the l Cup in 1982. Ferguson's Aberdeen won the European Cup Winners' Cup in 1983, beating Real Madrid 2-1 in the final. The next season Aberdeen also won the European Supercup, beating Hamburg SV 2-0 across 2 legs, and retained the Scottish Cup that season. The next season was followed with a domestic double and the season after that Aberdeen managed to retain the league. In his last season at Aberdeen, Sir Alex managed to win both the domestic cups. He also managed the Scottish national team for the 1986 FIFA World Cup on account of death of their then manager Jock Stein. In 1986 he joined Manchester United. He remained for 27 seasons at United. In his 27 years there, he won the Premier League 13 times, FA Cup 5 times, League Cup 4 times and the UEFA Champions League 2 times. The dominance of United both in England and Europe was amazing to see and their struggles after the Ferguson era tells us just how important and how good he was at his job. The transformation he brought to English football was for the best. Ferguson  always regards discipline as the main quality in his players and that is what has made him such a great name in football. Sir Alex retired in 2013 ending hid career after winning another Premier League title. What a career it was……