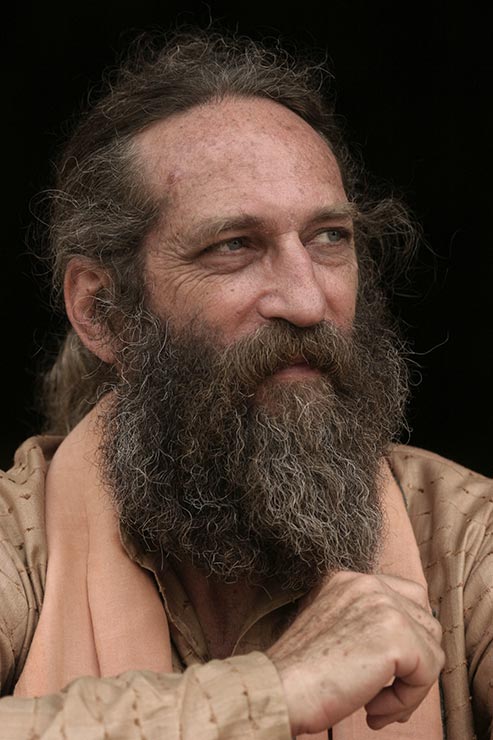 In a very saddening yet expected turn of events, video streaming platform YouTube, where any creator can apaprently upload their own videos that they have made has banned a YouTube channel of an Indian Naga Hindu sadhu known as Baba Rampuri belonging to the Juna Akhara, a sacred Hindu sect. On his channel, he had uploaded "the most complete darshan of the Naga Babas of Juna Akhada that exists on social media, and the most illustrious saints among them, all the Kumbh Melas since 1998, the processions, the various initiations, bhajans, interviews, all complete with commentary; 17 hours of masterclass on sacred speech; various yajnas performed by the great purohits of Mookambika; Mahashivaratri yajnas, Shivling Pujas, and music until dawn during our yearly Mahashivaratri festivals at (my) dhuni; (my) various speeches and interviews as well as my discourse on dharma at the dhuni."
Overall, there were 200 videos on Baba Rampuri's channel, all of which were removed instantly, without any prior strike or message.
Below is a screenshot of this post. You can access the post by clicking here.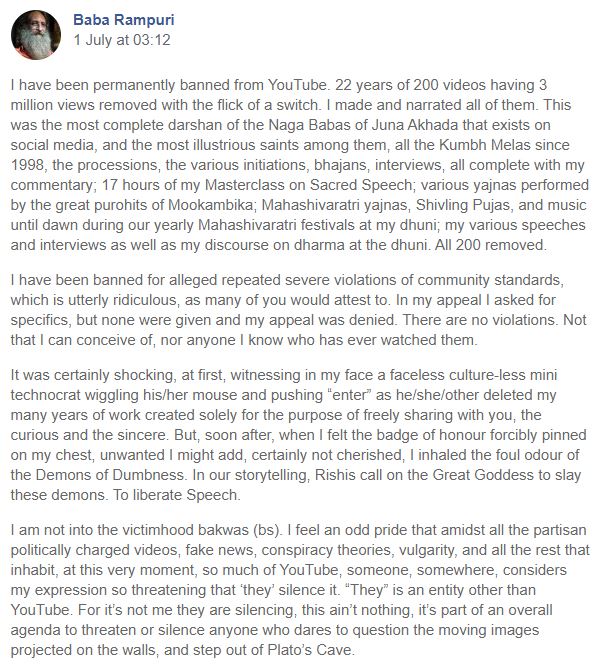 This is not the first time YouTube has done something like this. It is a known fact that YouTube shadow bans channels that they feel are conservative. When it comes to derogatory anti-Hindu videos, they are rampant and in huge numbers on YouTube having millions of views. Naming them will just add fuel to the fire of anti-Hindu propaganda and Hinduphobia.
When it comes to other channels that have Hindu content, the behaviour of YouTube is the same. A channel by the name of PraveenMohan has faced shadow bans, video strikes and unexplained video de-monetizations on his videos quite often. He also made a video explaining his situation.
Another channel known as Satya Sanatan has seen almost all his videos being demonetized. The Sham Sharma Show, a conservative YouTube channel run by a Hindu has had one of his videos on the critisizm of Hijab removed within seconds of uploading. In the below video, he with other YouTubers discusses these issues at length. Give it a listen of you want to have a deeper understanding of this issue with right-wing and Hindu channels on YouTube.
Meanwhile. You can help Baba Rampuri by doing a very simple thing. Go to Twitter and write a simple tweet to YouTube explaining that you want Baba Rampuri's channel restored while mentioning his channel URL. Do not forget to tag YouTube and YouTube India.
URL- https://www.youtube.com/NagaMahant?fbclid=IwAR2mateDIJg7bXYED716GW_yGi2eKAggdQLuyG46lR8qNaDoo8nM-sTfEKs
Since YouTube has no email to contact them, this is the best you can do with the hope that it works. Appealing for someone else's channel is not allowed and is useless.
Support The Power of Truth
In this day and age when truth comes at a very high cost and in the name of news, all you get is propaganda from everywhere, The Positive Indian tries to bring to you the true news from wherever we can. With our meager resources, it becomes increasingly tough for us to sustain ourselves. Support us in any way you can. Even a single rupee counts.