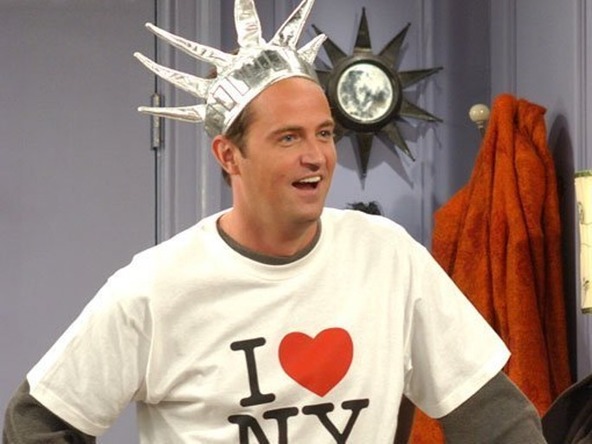 F.R.I.E.N.D.S, Game of Thrones, Suits, everyone has one favourite series or the other, and these TV shows has given us some great great characters whom we all love. Some of the shows are over and some are still going all, but those characters will never get old. Let's look at the 5 best characters from TV shows, chosen by me.
5. JESSE PINKMAN, Breaking Bad
Jesse is one of those guys whom you really hate in the beginning but as you go on, you just start loving him. He may cook meth, but as you get in touch with the other sides of his characters, you understand what he is all about. He is loyal, he is loving, caring and he is emotional. When Pinkman cares for you, he will do anything for you. Aaron Paul has really done a great work playing Jesse. Jesse is actually an old student of his chem teacher Walter White, who teaches Jesse the art of cooking meth. As a high school student he preferred hanging out with his friends, smoking marijuana rather than sitting in class and studying. He makes Jesse into an artist, an artist who could make the best methlamine. These two guys are the best partners. When you watch Breaking Bad, you would see the transformation of Jesse from a crystal meth addict to a very responsible, loyal an emotional guy. His "Yo!!" and "Bitch" remarks are something that everyone likes.
4. HARVEY SPECTER, Suits
The best closure in town they say. Harvey Specter is really an inspiration to many guys. Played by the very handsome Gabriel Macht, Harvey Specter works for the corporate law firm Pearson Specter Litt. Harvey also has his sidekick, better, an associate, Mike Ross. Mike Ross can be called next generation's Harvey Specter. Harvey is a very confident man. Never have I seen a guy(even on TV)who is much more confident than Harvey. But inside that confident and handsome guy stands a man who is seriously in need of love. In the show you could find him seeing a therapist. But never will you doubt his skills as a lawyer. In this whole world of politics, it is safe to say that Harvey Specter is the only lawyer you'd want if you get into any kind of trouble. His biggest mistake could be hiring Mike, who is not a real lawyer. The irony is that the next gen Harvey Specter could land the original Harvey Specter into trouble. So far Mike hasn't. Let's hope he doesn't.(Mike's in jail. Looks good for Harvey now.)
3. TYRION LANNISTER, Game of Thrones
Tyrion is probably the only guy on the show who is loved more than Daenerys and Jon Snow. Everybody knows that he is a dwarf, and just because of that he had to suffer. But Tyrion Lannister has made a really good name for himself across the seven realms and also across the narrow sea(GOT fans know). 'The Imp' is also a drunk man, who is often accused of killing his mom(who died in childbirth) actually killed his father, Tywin Lannister who was actually a man who never wanted Tyrion to be born. He loved 2 ladies, both of them ending in sadness for our little fella. Poor man really had to suffer. But never can you question his political decisions, making him Hand of the Queen to Daenerys. Peter Dinklage has done a really really good job as Tyrion. He has actually made everyone of us feel pity for him, sympathise to him. Even though we sometimes find his character a little evil, we still like him. Let's hope George R.R Martin does not come to know of this!!
2. GREG HOUSE, House M.D
Ah, the emotionally broken, and also physically, Greg House. The serial House M.D has given us one of the deepest ever characters in Dr. House. Played by the Englishman Hugh Laurie(who by the way speaks in a very fluent American accent as House) Dr. House can be defined as a crazy Vicodin(cocaine without the high, a pill) addict who hates people, literally hating social contact, deflecting them through his mind blowing sarcasm. But an amazing, amazing doctor. When you watch House M.D, I am 100% sure that you will connect with House in a way that you will never connect with any character. Just like Sherlock Holmes, Greg House also has a John Watson in Dr. James Wilson(notice the H in and House and Holmes and W in Watson and Wilson). Their friendship will make you fall in love with the whole idea of having a friend. Though the show could have ended a bit positively, House M.D is a must watch. Watch out for Dr. House's sarcasm. You'll laugh all the day.
1. CHANDLER BING, F.R.I.E.N.D.S
Could he be more funny? F.R.I.E.N.D.S is arguably the funniest sitcom EVER and Chandler Bing is the life of it. Played by Matthew Perry Chandler Bing is loved even after more than ten years of the show's last episode. He has literally taken sarcasm up a notch. His timing, his attitude and his expressions are just perfect. When you dig deeper into the show, you will find that most of Chandler Bing's jokes are actually Matthew Perry's. He used to sit down with the writers of the show and write down his stuff. Many a times in the show, you will definitely see yourself in Chandler's situation(I definitely did). People picking on him, making fun of his name, girls not being interested in him and also his parents getting divorced are the reasons he sites for being sarcastic. A defence mechanism, he says. Also supported by his best buddy Joey Tribbiani(who is a totally different guy to check out and fall in love with) they create the best bromance ever. People are gonna argue that Barney Stinson of How I Met Your Mother is better, but I just like Bing more. Chandler rules!!!