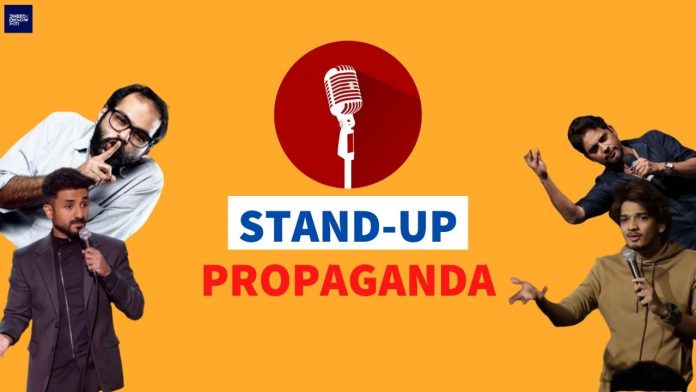 Just the other day, I started browsing amazon Prime and Netflix for a new show to watch during this quarantine, when I found a new web series called 'Pataal Lok'. The series looked quite good, it was produced by Anushka Sharma! But the series left no stone unturned in showing Hindus in a bad light. It showed a pandit cooking meat and serving it to a man who eats it while sitting under a mural of a Goddess with a cow. It shows how the Hindus in UP do not let a Muslim practice his religion, how upper caste Hindus made a criminal out of a lower caste man. The villains are all upper caste Hindus, obviously, and all the honest or oppressed people in the series are either minorities or of lower castes.
As I sadly closed Amazon Prime, I opened up YouTube and instantly saw some stand-up comedy videos. It started on a great note, with Abhishek Upmanyu and Anubhav Singh Bassi. Both are quite hilarious. As I was finished watching them, a Kunal Kamra video suddenly popped up in my recommendation. I had only heard his name and saw some of his tweets, but never watched his stand ups, so I watched it. Instantly, I regretted it. The video was firstly extremely unfunny, and started on an abusive note towards old people. As the video progressed, the stand up comedian started making jokes on 'Jai Mata Di'. The whole video was not only painted with propaganda against nationalism and BJP but was Hinduphobic. I had never realized that this anti-BJP, anti-Arnab Goswami comedian was also anti-Hindu.
After this, I did a little of my own research on the whole stand-up comedy scene in India. With just a few searches on YouTube and Google, this 'stand up propaganda' of this new gen comedians were revealed. All the big names of stand-up comedy, Vir Das, Kunal Kamra, Varun Grover, be it anyone, one thing is common among them. All of them are anti-BJP and they love showing it off on social media. Even those who have apolitical or genuinely funny political videos like Abhishek Upamanyu and Abhijeet Ganguly are openly anti-BJP, which is in no way a bad thing.
But the nexus reveals itself when you see and observe comedians like Vir Das, Sanjay Rajoura, Munawar Faruqui and Kunal Kamra himself. The smear campaign against Hindus is now using stand-up comedy to infiltrate the minds of the youth. Let us take Vir Das for example. This actor comedian, who acted in movies like Go Goa Gone and Delhi Belly is a known Modi hater. In one of his videos, which is available on Netflix, yes Netflix, Vir Das says this about the Ramayana- "Laxman did not sleep for 14 years when they were in that forest? Did you know that shit? Yes, he stayed awake. Can you imagine how creepy that was for Sita?"
What Vir Das fails to mention here is that Laxman never even looked at the face of Maa Sita while they were in the forest. He only managed to look at her feet, in respect of her. He called her 'mata' and she called him 'putra'. Being an atheist and a logical, science loving guy is fine, but this comment is neither funny, nor in good taste. It is a disgusting and vile comment which only sexualizes relationship between a mother and a son.
Though full credit to Vir, he targets not just Hinduism but other religions as well. But there's a big reason for that too. He does that only because he has now been signed by an American Comedy Management company who only lets him do most of his shows in the USA. In the USA, he is now becoming a part of the left liberal comedian nexus who again target only the majoritarian religion of the USA, just like in India. In fact, it is the Indian comedians who are now copying their American 'comrades'. Stand up comedy in America is now limited to Republican hating, male bashing, and the truth is that the obsession of the left with identity and political correctness that their comedy seems to be parroting established politically correct statements with a moral social justice cause just isn't funny.
Anyway, moving to India, fortunately, the left still isn't the dominant culture in India, which is why propagating things against one religion with their 'epic comedy' is what they want to do. Take Sanjay Rajoura for example. He is a stand-up comedian and is a part of the far-left group called 'Aisi Taisi Democracy'. This group of artists recently went on an all India tour, which they called the 'Azadi Tour'. What I can say is that they did not hold back their hatred this time.
The 'epic comedian' Sanjay Rajoura in one of his acts based all his jokes around the Vedas. He started firstly by making fun of the Hindu God Ganesh's elephant head, after which the discussion suddenly shifts to how the Mahabharat character Eklavya lost his thumb because he was a Dalit. "For an upper caste Hindu, everything is about the superiority of the Vedas" is apparently the punchline in this act, at which the brainwashed and probably brain-dead audience laughs vilely and claps hard. To a religious Hindu, the apparent jokes at the Modi government, spiritualism, and the sciences of astrology won't even hurt one's sentiments in front of the jokes about wanting Amarnath Yatra pilgrims dead, Draupadi having 5 husbands or the cuss words against the sciences of astrology.
This act, in which Rajoura tries to prove the superiority of science over religion is nothing short of a venom spewing contest against one religion, Hinduism. Sadly, this is what the secular fabric in India has all been about. Did he forget that the father of nuclear atomic bomb, Dr. J Robert Oppenheimer was an avid follower of the Bhagwat Geeta? Does he forget that he even quoted the Bhagwat Geeta in one of his interviews?
Has the far left forgotten that great Indian mathematician Srinivasa Iyengar Ramanujan actually credits Devi Mahalaxmi for 3900 of his formulas? Do these Hinduphobic comedians forget that many of those formulas haven't been proved by scientists even today? Science seems to have failed here. Even the person who invented zero, Aryabhata was a devout Hindu Brahmin. But our epic comedy king Sanjay Rajoura seems to have shrouded common sense and facts behind the garb of Hinduphobia. Or that may just be his propaganda. Bashing Hindus is quite easy in India apparently.
Even more easy if you are a comedian who belongs to a minority religion like Munawar Faruqui. Faruqui uses lyrics of popular Bollywood scores to mock Lord Rama over his 14 years of exile and portrayed Sita as an insecure wife suspicious of her husband Lord Rama's loyalty towards her. In the beginning of the video, the same comedian to gather sympathy for his Islamic taleem that is taught in Madrasas. Why such hypocrisy? Why make jokes about Sita crossing the line on the lines of feminism?
This joke of a comedian even mocked the brutal killing of 58 Hindu women, children and sadhus who were burnt alive in the Godhra kaand. He even calls it a movie made by Amit Shah, directed by Amit Shah. This same comedian was trying to gather sympathies for the dying children in Syria in another video. Imagine the hypocrisy.
Faruqui says, "The song- 'Mera piya ghar aaya, ohh Ram ji', Ram ji doesn't give a f*ck about your piya. Ram ji is like I'm myself not been to home in the last 14 years." Faruqui quotes another popular Bollywood song- "Ek do teen…tera" starring Madhuri Dixit from the blockbuster movie-Tezaab to allege that Sita is suspicious of Madhuri having a soft corner for Lord Rama. Fortunately, former Shivsena leader Ramesh Solanki has filed a FIR against Faruqui for his comments.
In 2018, a man named Paras Rajput had confronted 'comedians' Masoom Rajwani and Kunal Kamra for cracking offensive jokes on Hinduism. The incident is of 15th April 2018, when Masoom Rajwani insulted Hindu gods and goddess at canvas laugh club Mumbai. Paras Rajput immediately interrupted the show and filed the police complaint the same night. A video was put out by Paras Rajput where people can be heard protesting against the offensive jokes made against Hinduism on the show.
While creative freedom is important for artists to make good quality content, why is it that creative freedom is only being used to make unfunny, Hinduphobic propaganda stand-up comedy videos? Why is it that in the name of creative freedom, the filmmakers are making movies with names like 'sexy Durga', songs with lyrics like 'sexy Radha' and films where Lord Shiva is shown crawling underneath an unclean public urinal? Did the artists from the 1900s not make good movies or movies or songs?
Creativity must be encouraged, but only in a direction where it questions the hypocrisy and the wrongness in a society. When creativity in itself become hypocritical in nature, that is when one can say that it is actually propaganda in the garb of creativity. This is what the stand-up comedy scene in India has become.
The pertinent point to note here is that only Hinduism is subjected to such derisive ridicule while other religions have largely been exempted from their contemptuous mockery, perhaps to preserve the secular fabric of the 'humour'.
While India has largely been an accepting country, which accepts people from every religion or no religion into its fold, the fact that India's own culture is being openly mocked by these comedians in the name of humour is what makes the stance of people like me 'aggressive' against them. These stand-up comedians are the same atheists who talk and stand up for religious freedom of the minority communities of India, but leave no stone unturned when the matter concerns itself with Hindu bashing, be it their Gods, festivals or rituals.
While these people claim to be the 'saviors of constitution' on Twitter, their attitude towards the majority religion in India is quite hypocritical. For deliberately inciting hate against one community, these people can be booked under Indian Penal Code(IPC) Section 295A, which criminalizes such behaviour.
As the late actor Irrfan said, "Religion mere aur bhagwan ke aapas ka maamla hai, koi dakhal-andazi na kare" these comedians need to understand that making a mockery out of someone's religious beliefs is no comedy, be it any religion. The nexus of the left-liberal cultural Marxism, which today stands deeply rooted in all the democracies of the west is slowly starting to make its way in the deeply culturally rooted fabric of India, and the current crop of stand-up comedians is a great propaganda tool of it. Perhaps it is time that we take an aggressive stance towards them and slap them with lawsuits rather than simple FIRs.
For more such articles, visit here. Also, if you have any article worthy of publishing, mail us at [email protected]
Follow our YouTube Channel- You Need To Know It