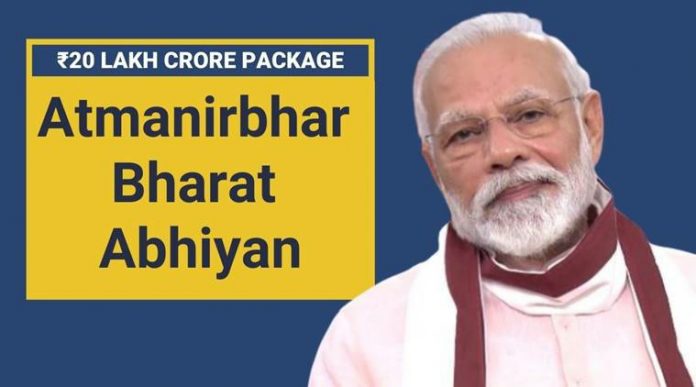 Narendra Modi in his address to the nation on the 12th of May, 2020 announced a whooping ₹ 20 lakh crore package as a part of his 'Atmanirbhar Bharat Abhiyan', which is a revival plan to help boost the economy and actively promote domestic businesses.
Modi started his speech a visionary note, where he said that the 21st century is the century of India. Saying that we must move forward while taking precautions, it is not just the dream of us Indians, but now, seeing the coronavirus pandemic, it is now the responsibility of us Indians to realize this dream.
"When the coronavirus pandemic started, there was no production of PPE kits and minimal production of N95 masks. Today, in India, the situation is such that 2 lakh PPE kits and 2 lakh N95 masks are made every day. We are able to do this because India made this crisis into an opportunity. This vision of India to make an opportunity from a crisis is going to be very crucial for our pledge to become 'atmanirbhar' (self-reliant).
PM Modi also emphasised the importance of India's culture and its importance in making the nation atmanirbhar, because India's development goals always include 'sustainable development' at its base. "International Solar Alliance and International Yoga Day are some of the examples of India's pledge towards making the world a better place. The help that India provided by exporting medicines to the whole world act as a ray of hope to the whole world" he added.
"During the beginning of this millennium, foreign experts helped India in solving the Y2K crisis. Now it is India's turn to help the world by making the best products and providing it to the world".
Modi also said that the atmanirbhar Bharat will be based on 5 pillars, namely Economy, Infrastructure, System, Demography and Demand. He also said that the supply chain which doesn't fulfil the demand of the nation needs to be revamped.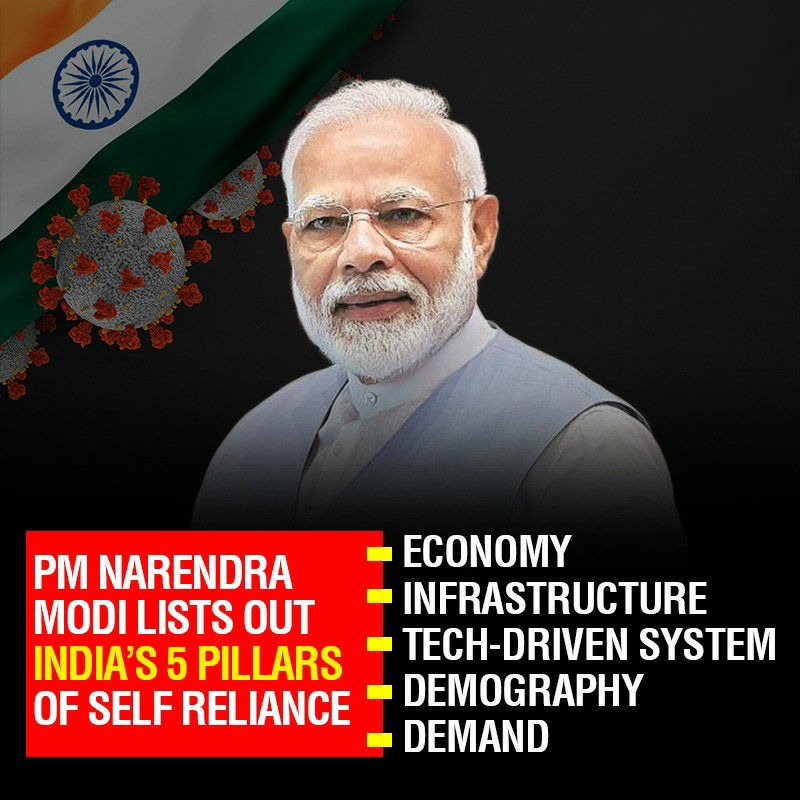 "I announce a special economic package today. This will play an important role in the 'Atmanirbhar Bharat Abhiyan'. The announcements made by the govt over COVID, decisions of RBI & today's package totals to ₹ 20 Lakh Crores. This is 10% of India's GDP".
The package gives a lot of importance to land, laws, labour and liquidity. It is a package that supposedly pays special attention to the MSME sector, which provides huge employment opportunities to all. Farmers and middle class taxpayers who contribute a lot to India's development will also find a lot of things for themselves in this package.
PM Modi informed that the Finance Minister Smt. Nirmala Sitharaman will inform about the details of this package from tomorrow (13th May) every day until a few days. Modi also highlighted the reforms which is government did in the last 6 years that paid off during the COVID-19 crisis such as the Direct Benefit Scheme.
"Jan-Dhan, Aadhar, Mobile, JAM's power is just one reform whose effect we saw. Now these reforms need to be given more power so that farming community becomes powerful, and in future, a crisis like the coronavirus pandemic affects them minimally.
These reforms will include measures that help build a rational tax system, easy and to the point rules and laws, best in class infrastructure, able and capable human resources, and a strong financial system. These reforms will promote business, attract investors and will make the resolution of 'Make in India' stronger.
PM Modi also said that 'atmanirbharta' (self-reliance) always makes a nation capable for global competition and that it is the will of time that India become self-reliant in every competition and become a major player in the global supply chain. According to PM Modi, this package will ensure that and make every sector of our country efficient whilst also ensuring top-notch quality.
While his speech included nothing for migrant labourers, he did praise the small vendors and labourers, whose importance was felt during this crisis.
"Time has taught us that we must make 'local' the mantra of our lives. Global brands that are there today were once local too but when people there started supporting them, they became global. That is why from today, every Indian must become vocal for our local" he said.
Regarding the lockdown, Modi said- "Scientists say that Coronavirus will be a part of our lives for a very long time. But we can't let our lives remain confined around Corona. We will wear masks and maintain social distancing but we will not let it affect us. So, lockdown 4 will be in a new form with new rules."
It remains to be seen as to what all measures this new stimulus package for 'Atmanirbhar Bharat Abhiyan' will include. Given the previous record of this government on economy, one cannot expect much. But even then, the Rs 20 lakh amount just makes one curious as to what this package will bring. This amount also makes one think about how much stress will the fiscal deficit will be under.
One thing is for sure though, everyone's expectations are quite high with this package. The foreign expectations are high on Indian economy.
For more such articles, visit here. Also, if you have any article worthy of publishing, mail us at [email protected]